Veterinary Receptionists
KJ

Veterinary Receptionist
KJ has always had a knack for caring. Whether it's for humans or animals she's always been involved. KJ started working with animals at the age of 12, volunteering her weekends to work at Apex Farms. She continued her love for animals volunteering at wildlife rescues and then going onto Carrington College. Her life then took a different path, as she went on to caregive for elderly and disabled adults, but now she has found her way back to her true calling, animals! KJ currently has a shihtzu-maltese named Squish and a bearded dragon named Beardie. In her free time you most likely will find her laughing at something, enjoying a walk, taking some nature photos, or singing her heart out.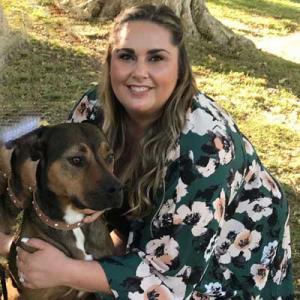 Emilia

Veterinary Receptionist
Emilia and her husband Zac recently moved here from the Bay Area. Together they have two adopted fur children, a tabby cat named Mr. Cat and a pit bull mix named Lana. Emilia went to college to be a teacher but has always had a passion for animals. While attending college and after completing her degree she worked at a boarding facility for the past 7 years. In her free time Emilia enjoys spending time with family and friends, exploring her new surroundings, and taking her dog on hikes with her husband.
Registered Veterinary Technicians
Nikki, RVT

Hospital Manager — Registered Veterinary Technician
Nikki knew from a young age she would be working with animals for the rest of her life. She started volunteering at the Bradshaw shelter for 4 years in high school. She worked for Placer County Animal Services for about a year, before spending many years working in Emergency medicine as a veterinary assistant. She has been in the field since 2000, obtaining her RVT license in 2008. She has been in management for 6 years, which she enjoys very much. She briefly worked at UC Davis supervising ER/ICU prior to managing a Sacramento practice for 2 years, and joined the Bayside family in January 2021. She has been a Granite Bay resident since 2015. She has a husband, 4 busy kids, and many pets including dogs, a cat, and a couple of ducks. She has a history of showing dogs in both AKC/UKC, and breeds English Bulldogs. Animal control still holds a special place in her heart and she really enjoys working closely with the local animal shelters to run donation drives, especially focusing on the Pet Food Assistance Program for pets in need. In her "spare time" you can usually find her staying busy with the kids at Granite Bay Jiu Jitsu, soccer, bike park or Folsom Lake!
Amanda, RVT

Registered Veterinary Technician
Amanda ventured into the veterinary field after dabbling in various fields from fashion to coffee. She has always had a love for animals with various pets throughout her life including dogs, birds, lizards and a class crawfish. In 2019 she graduated from Carrington College and became a Registered Veterinary Technician the following year. She has been at bayside for a year but in the field for 3 years.

During her free time she can be found smothering her dog, Elvis, with love. She enjoys road tripping with Elvis and her boyfriend. Her and her boyfriend enjoy picking out new wines and of course cheese.
Veterinary Assistants
Destaney

Veterinary Assistant
Destaney started in the veterinary field in 2014 and never looked back. Her career started in an animal shelter and since has grown to learn physical therapy, lab research medicine, emergency medicine, and holistic care. She finished her veterinary nursing schooling last year and is set to achieve her dream as an RVT. She has a zoo of her own, consisting of Mr Bubbles and Chester her two kitties, plus Callie May and Willie the wiener. Her favorite aspect of her job is being the voice for a creature who's goal in life is to love their humans unconditionally. When she's not at work you can find her in her garden or trying new breweries!
Lexi

Veterinary Assistant
Lexi has been in the veterinary field since 2013. She loves animals of all kinds but dogs being her favorite, she has three of her own. Chance a Great Dane, Cali a Husky mix and Ross an American Bulldog. They keep her hands full most of the time but in her spare time she enjoys photography, cars, friends & family.